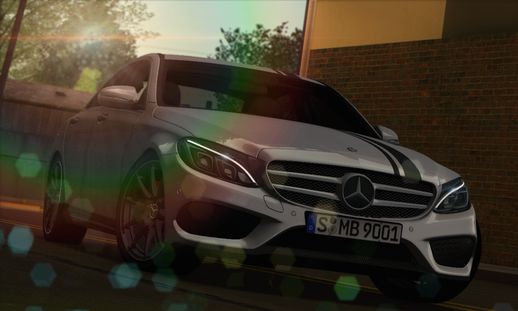 Hello everyone. GTA San Andreas can be modded very easy and now everyone can have new cars for SA. This is GTA BEAR recommendation for you.
2014 Mercedes Benz C250 AMG Edition V1.0
made by FF Ultimate.
Description:
MOD: [K.G MODDING TEAM] FF ULTIMATE
DFF: 7.3 MB
TXD: 9.3 MB
Replaces: 'Admiral' (or any other 4 door cars)
* Model author: Chipicao (Gamemodels.ru);
* Interior author: Chipicao (Gamemodels.ru);
* Textures author: Turn 10 Studio (Forza Motorsport 4);
Chipicao (Gamemodels.ru);
* Model converted to SA by: [K.G Modding Team FF ULTIMATE];
::Full Model Features::
- High Quality Model;
- High Quality Interior;
- High Quality Textures;
- High Quality Wheels to choose from;
1. Stock AMG Black Series Rim
2. Vossen CV5 Rim
- High Quality Engine Texture;
- AMG Aero BodyWork (Mid-Line)
- Quality specular and chrome settings;
- 2 High Quality Plates supported: [EU, SA];
- Realistic Flat (Underbody) Shadow;
- Custom collision;
- Working brake Calipers;
- Working Steering Wheel;
- Empty parts mashed up and texturized with Zmodeler;
- Perfectly adapted to ENB series and without them;
- Slight reflection without ENB series;
- Perfect Player Position;
- Adapted to Imvehft 2.0.2 [Working indicators, rev lights etc ..];
Known bugs:
- No damages and Chassis_vol [will be added later];
- Slightly big DFF size (may be unpleasant for Low-end PC);
[K.G Modding Team] is on Facebook!